Restaurants & Bars
The gastronomic offerings at Catalonia Costa Mujeres will surprise you! Try delicious Mexican, Italian, Asian and international specialities in the 6 themed restaurants, 5 food courts, buffet, snack bar and creperie. Getting together with friends and family on one of the terraces with plates of different specialities from the food courts on our Quinta Avenida, inspired by the popular avenue of the same name in Playa del Carmen and the heart of Catalonia Costa Mujeres is what we suggest. A stroll along this vibrant street will turn up not just food courts but bars, stores, a mini mart and a whole load of life and action. By day, discover the varieties of snacks and tropical fruit juices in one of the bars on the beach or by the pool, revamp your look at the beauty salon or pamper yourself at the Spa. Kids and teenagers will have a ball in our clubs with specialised staff and activities designed especially for them. At night, wind down to the sound of the ocean breeze or enjoy the vibe at our nightclub and late-opening bars.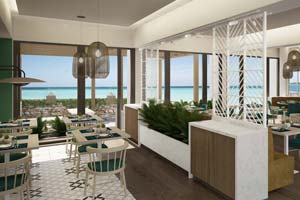 Costa Caribe
Main Buffet offering a wide variety of local and international dishes.Including wood-fired pizzas and showcooking area.
Seablue
Snackbar
Creperie
Crepes salados y dulces
Rodeo
Grill &Steak House
Ayami
Enjoy the best Asianspecialties(oriental cuisine served on Teppanyaki tablesand with separate dessert area)
BO
Barcelona Origens.Enjoy the best vegetarian specialties.
French
Enjoy of the best French cuisine.
Memories ($)
Tasting Menu of Catalan origin fusion cuisine.
BLoved
Exclusive for Privileged guests
Bars
Pearl: Lobby bar - Bar Margarita: Swimup Poolbar at the Activities pool - B.aqua: Swimup Pool bar at the Relax pool - Bar Tequila: Bar in La Quinta Avenida - Twist Bar: Bar in La Quinta Avenida - Beach Bar: on the beach, open air - Bar Pure: exclusive for Privileged guests, ocean front with lounge area - Bar Maloo: At the pool - Natural fruit juices (non-alcoholic) - Sports Bar: Air-conditioned, with games and TV screens (+18) - Cat ́s: Disco (+18)